Home
»
Archives
»
May 2008
» HyperDesign [
Previous entry: "New Subaru Ad..."
] [
Next entry: "Website Design that I like..."
] 05/14/2008: "HyperDesign"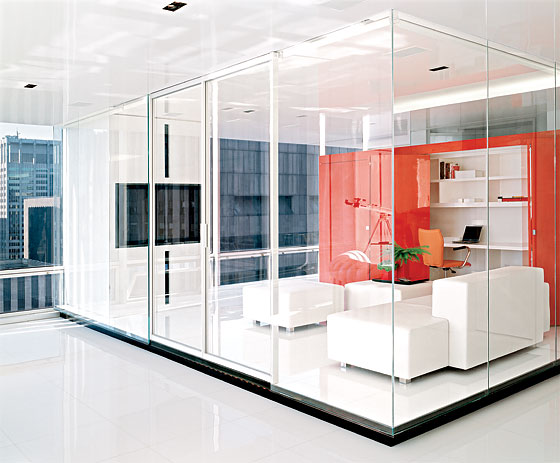 Denny hipped me to an article in
NY Magazine
that details six different homes in the boroughs that have gone a 'bit overboard' in the design department.
What does it say about me that I don't think they've gone too far at all?
What about the fact that I would gladly live in 3 of them? I especially love the home office pictured above. That home also has a really killer kitchen/bar design that I really dig as well.
BTW - This office idea gave me the totally rad idea, which may be completely impractical to produce, and expensive and almost completely pointless, but almost certainly awesome: Glass Pocket Doors.
I would love to see glass (or polycarbonate) pocket doors in a glass wall, so you can see all the mechanisms and awesomeness. Also cool would be wood doors inside glass walls, or glass doors in a solid wall.
Glass pocket doors would be rad in any combination, really. Any thoughts?
Replies: 2 Comments
On Wednesday, May 14th, Nicole said
I think that it all depends on your taste, a conservative's vision of overboard is just where the raticalist begins to pick up and keep running. Just imagine how they would react to what you would consider overboard.
On Wednesday, May 14th, Jon said
So, you're saying I am a Radical(ist)? (I think you mean Radical. People who have/hold radical beliefs are called Radicals. No need for -ist.)